The Consortium for Social Movements and Education Research and Practice is accepting proposals for seed funding, up to $2,500, from PIs who will seek external funding on topics central to the mission of the Consortium and that include the participation of at least one investigator affiliated with Penn State. Topics appropriate for requests include, but are not restricted to, the following: social movements' influence on public education systems, including the impact of student movements and racial justice movements; examination of the role of education and learning in past or contemporary social movements such as today's climate justice movement; how right-wing social movements have integrated education into their daily activities; educational institutions as sites of contention (e.g. colleges and universities, school boards, state departments of education); the impact of college on longer term patterns of individual social movement activism; differential recruitment of students into campus activism; the functional ecology of college campuses for movement mobilization; social movement schools; organizer training.
Proposals should request support for funds (up to $2,500) to facilitate preparation of a collaborative research proposal writing effort of a proposal for external research support. The content of proposed research should be relevant to the primary focus of the Consortium, the intersection of social movements and pedagogy. A proposal submission to the Consortium should describe 1) a brief outline of the research problem, 2) a brief description of the proposed methodology, 3) Why the proposed research is important and 5) one or more target funders to which a completed proposal will be submitted. A more complete guideline for proposals is attached. Questions about proposal submissions should be sent to Rebecca Tarlau or John McCarthy. Application should be submitted through the online portal. Decisions on proposal funding will be available typically within eight weeks of submission.
Proposals should be submitted via this website. Decisions on proposals will be available typically within eight weeks of submission.
Additional Funding Opportunities
Penn State Center Philadelphia's Seeding Change Grant Program funds up to $5,000 for research/student engagement projects in the Philadelphia area. These projects should have a meaningful connection to social movements in Philadelphia and may include (but are not limited to) on-site research, service learning, community-based research, studios, cross-disciplinary faculty collaborations, creation of learning-design frameworks or prototypes for ongoing engaged scholarship programming, and consultative projects with local organizations. More details, including the rolling application, can be found on the Center's website.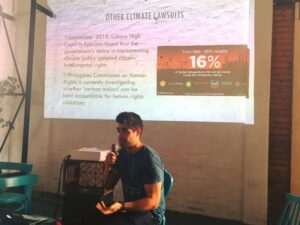 Project Title: Youth Climate Activism in the MENA Region and Global Climate Governance
Description: This project seeks to understand youth climate activism in the Middle East and North Africa (MENA) region and its relationship to global climate policy processes. To this point, scholarship on youth climate advocacy is focused heavily on movements in the Global North with substantially less scholarly and media attention paid to climate activism in the Global South. Yet, in 2022 and 2023 the United Nations climate meetings will be held in MENA countries, signaling a growing focus on the region within the global politics of climate change. This project uses interviews (n=20) with MENA youth climate leaders combined with content analysis of media and social media data and a brief survey to: 1.) characterize activists' understandings of the contextual challenges which intersect with climate change in their home countries and locales; 2.) analyze how MENA youth activists perceive their influence in global spaces of climate policy; and 3.) understand the complex motivations that underlie youth climate organizing in the region. The results of this pilot project will support future external funding proposals, the preparation of an academic article, and ultimately form the basis of in-person fieldwork and research dissemination at the United Nations COP 28 climate negotiations to be held in the United Arab Emirates in 2023.
Mark Ortiz is a Presidential Postdoctoral Fellow in the Department of Geography at Penn State. Broadly, his research focuses on global youth climate movements, climate policy and ethics, youth digital cultures, and social media organizing.